About

Alignment Rockford

We believe that all youth deserve to reach their full potential, so we work in close partnership with Rockford Public School District 205 to better understand the needs of Rockford students today. Everyone in our community has a role to play in helping students – and we are the conduit to making it happen.
Alignment Rockford Story
In partnership with Rockford Public School District 205, Alignment Rockford brings together strategic partners from corporate, civic, political, religious, and social entities to challenge and address systemic barriers and equitably impact the growth, development, and academic achievement of each RPS 205 student.
To align community resources in support of public-school strategies to raise student achievement, improve the health and happiness of our children, and advance the economic and social well-being of our community.
In 2009, a diverse group of civic, business, religious and educational leaders in Rockford began researching how other communities across the country were responding to declining student achievement and graduation rates, with the intention to adopt best principles and practices. They wanted to learn how other communities were working to eliminate barriers students face in reaching their academic goals. Their research led them to Nashville, where community leaders had launched a strong, effective community education initiative called Alignment Nashville.
Alignment Nashville had created a systemic and sustainable collaboration ecosystem where business leaders, civic organizations, and Metro Nashville Public School District could work together to support education and the lives of the city's children and future.
Learning from their approach, Rockford entered into a support agreement with Alignment Nashville, becoming the first community to replicate their model.
Alignment
National
Our model is focused on systems change and our design and implementation model ensures that our teams are making progress toward long-term, sustainable institutional change.
Goals are defined.
Alignment Teams (A-Teams) are created through a community call for participation.
A-Teams go through a process of tactical planning and review to align their work plans to the goals.
Projects are piloted.
Data is reviewed and changes made, as needed.
Successful projects are scaled up and expanded with the goal of institutionalizing at a community level.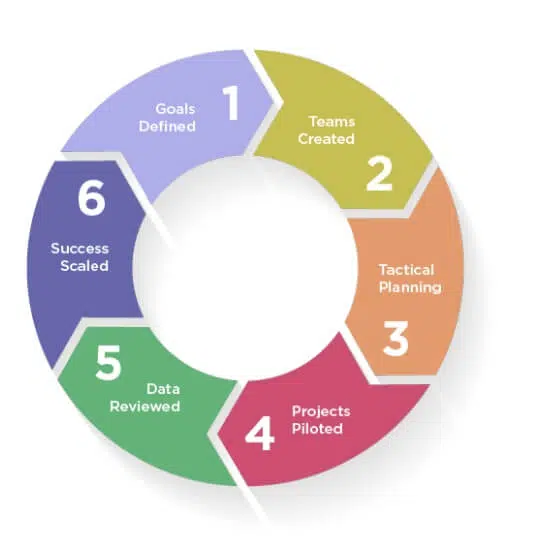 Structure and
Governance
Ensuring our students start school ready to learn, are successful through middle school, and have academic opportunities in high school that result in being college or career-ready does not happen overnight. It also can't happen without a strong collaboration of business, civic and educational entities working together to advance educational achievement for all.
The Model we use invites community partners to engage in our projects at one of three level:
Governing Board: The Governing Board oversees policy, finances, and sets the strategic direction for Alignment Rockford.
Operating Board: Comprised of community leaders and School District representatives, the Operating Board provides counsel, guidance, and oversight of the A-Team work.
Alignment Teams (A-Teams): Teams of individuals representing community organizations and businesses that interact with or are connected to the challenge or goal.
Alignment Rockford's Governing and Operating Boards consist of officials from RPS 205, the City of Rockford, Winnebago County, and the leaders of higher education, business, faith, recreational, social service, and other community organizations.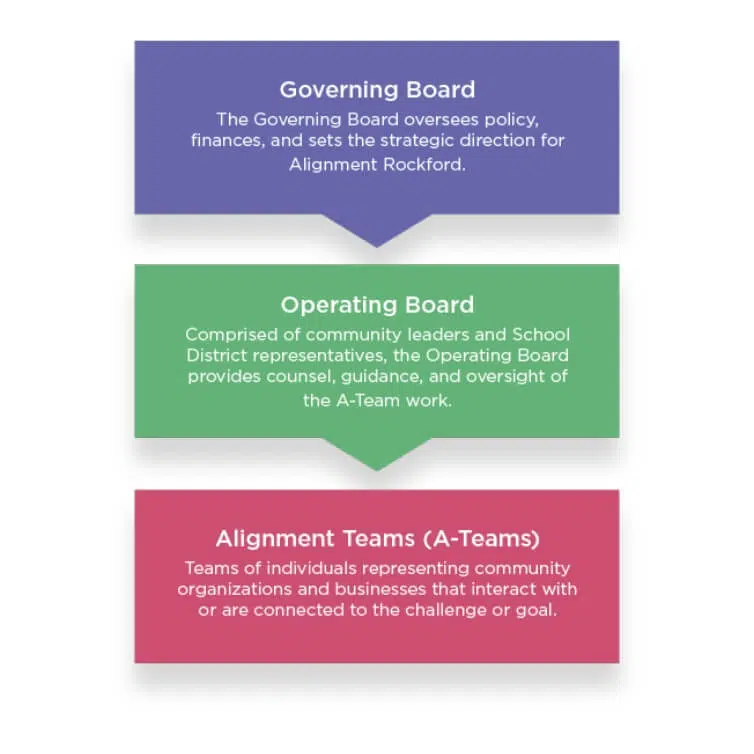 Your support matters to the work we are doing in the community. Donate today and help every student in the community reach their potential.
WANT TO DISCUSS WHERE YOUR DONATION COULD BEST SUPPORT OUR COMMUNITY'S CHILDREN?